The History of Levato Eyewear
Established in 1958 and located in beautiful downtown Ridgewood, Levato Eyewear features exclusive designer collections and state of the art lens design options and coatings. Featuring attentive, friendly personalized service and a warm, welcoming atmosphere, Levato Eyewear is your hometown retail store with the highest quality line of designer eyewear. Convenient parking is available with entrances at the front and rear of the the store.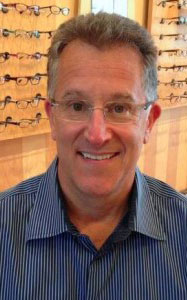 Don Axelband
Owner
Don Axelband's curiosity of the optical industry peaked early in his childhood. At the age of 12, he was fitted with his first pair of prescription eyeglasses. As a young child, he always inquired how his eyeglasses were made. As a full-time eyeglass wearer, his curiosity peaked to the point he wanted to dedicate his future career to answering these questions.
In 1978, Don graduated New York City College in Brooklyn, and received his Degree as a Licensed Optician. After working for 2 years at the Optometry School at the State University of New York, he taught students to dispense and manufacture eyewear. He later traveled to Georgia and Florida to manage and operate several well established optical businesses. In the years to follow, he missed his hometown and moved back to New york where he met and married his wife Tammy, and went on to have 4 beautiful children while setting down their roots in Northern New Jersey. He worked as a well-respected optician in Bergen County for 15 years until he realized the pride of ownership was his next step. He jumped at the opportunity of purchasing Levato Eyewear in Ridgewood, NJ when he heard it was for sale. Levato Eyewear had a long established town heritage of first-rate style and service. He knew this is where he had to be. He acquired the business in the year 2000. Continuing the legacy of Levato Eyewear, which originated in the 1950's, Don, along with Doris Calautti, worked together as a team to continue the finest level of service and selection the local and surrounding areas had grown to love and expect. His dream had come true.
Our Team
Our friendly staff is available to help you with all of your eyewear needs. Please contact us today!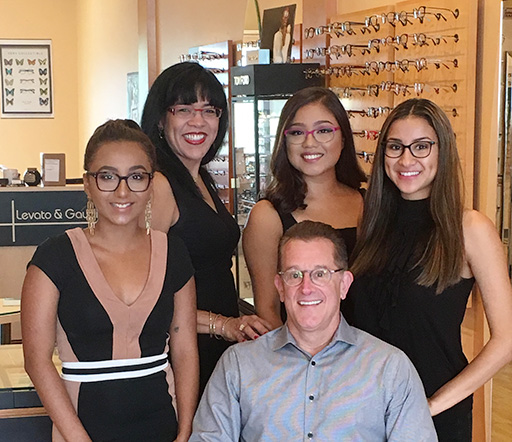 View our collections online, visit our office, review us, or contact us today to find the perfect eyewear for you.